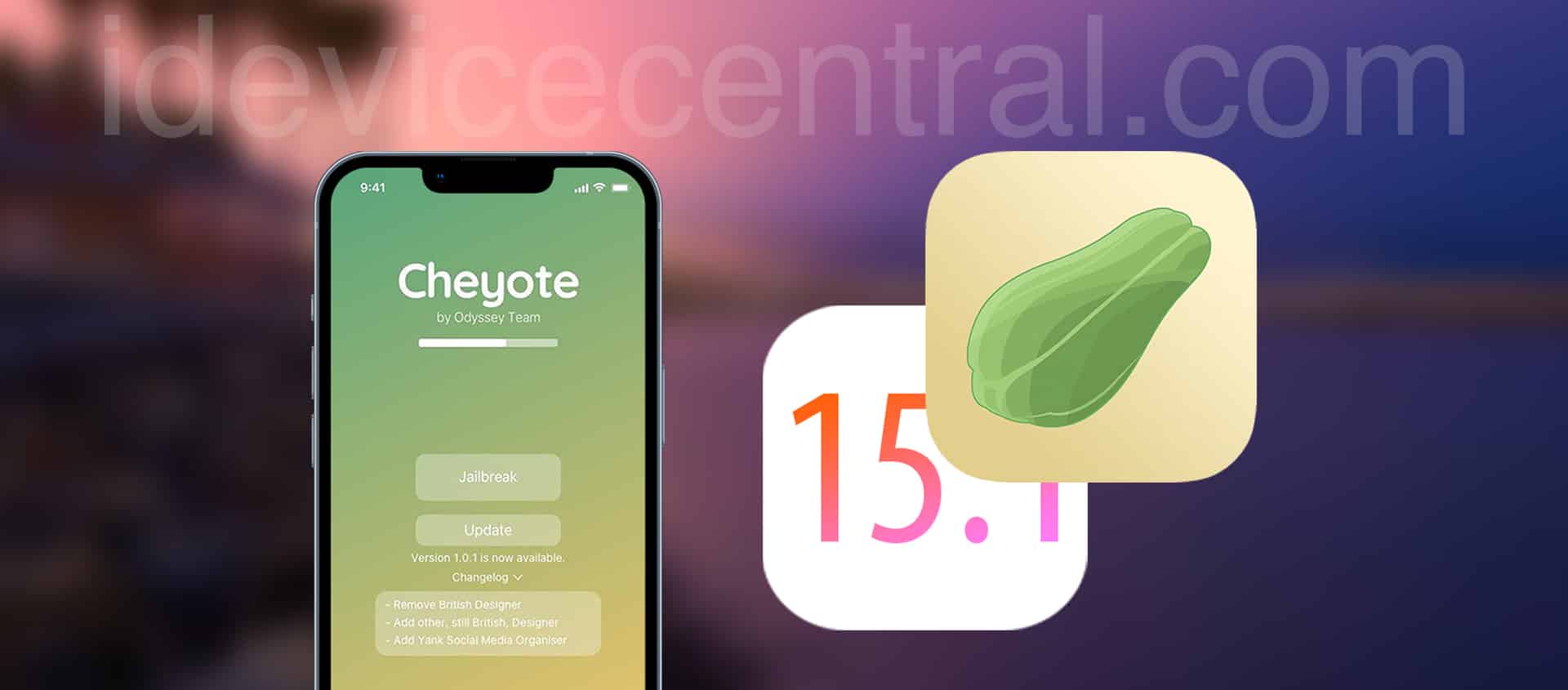 What is Cheyote Jailbreak?
Cheyote Jailbreak is a semi-untethered rootless jailbreak tool developed by the Odyssey Team which works for iOS 15.0 up to iOS 15.1.1 on most devices. Semi-Untethered jailbreaks (like Cheyote, Unc0ver, Taurine, Blizzard Jailbreak, etc.) do not require you to boot your phone using a computer, however, if you restart your device, the jailbreak will be disabled.
To re-enable a semi-untethered jailbreak, you must open the application on your phone and press the "Jailbreak" button again. All your tweaks will automatically be loaded back.
The Odyssey Team is a seasoned jailbreak development group with numerous jailbreak tools developed for various iOS versions. Here are all the jailbreak or jailbreak-related tools developed by them:
Cheyote Jailbreak (iOS 15)
Taurine Jailbreak (iOS 14.0 – 14.3)
Odyssey Jailbreak (iOS 13.x)
Chimera Jailbreak (iOS 12.x)
Electra Jailbreak (iOS 11.x)
Sileo Package Manager (a modern Cydia alternative)
What iOS versions are supported by Cheyote Jailbreak?
Cheyote Jailbreak developed by the Odyssey Team supports iOS 15.0 up to iOS 15.1.1. The full list of versions supported by Cheyote is shown below:
All iOS 15.0 – 15.1.1 BETAs
iOS 15.1.1
iOS 15.1
iOS 15.0.2
iOS 15.0.1
iOS 15.0
In the future, it's possible that Cheyote Jailbreak may be updated for newer iOS 15 versions as well, thanks to projects like Fugu15 by Linus Henze.
What iOS devices are supported by Cheyote Jailbreak?
Cheyote Jailbreak is still in development, which means the initial device support is bound to change. According to Coolstar (lead Odyssey Team developer), the initial device support will be A11 to A14 devices. This breaks down as follows:
Cheyote Jailbreak supported iPhone models:
iPhone 12
iPhone 12 Mini
iPhone 12 Pro
iPhone 12 Pro Max
iPhone 11
iPhone 11 Pro
iPhone 11 Pro Max
iPhone SE (2nd generation)
iPhone XS
iPhone XS Max
iPhone XR
iPhone X
iPhone 8
iPhone 8 Plus
Cheyote Jailbreak supported iPad Models:
iPad Air (4th generation)
iPad (9th generation)
iPad Mini (5th generation)
iPad Air (3rd generation)
iPad (8th generation)
As more development goes into Cheyote Jailbreak, more devices may start being supported. The list above represents the planned device support at release in version 1.0, and it's bound to change.
Does Cheyote Jailbreak have Cydia?
The Cheyote Jailbreak doesn't come with Cydia. It comes with an even better, faster, and more modern package manager called Sileo, which was developed in-house by the Odyssey Team. You may also install Zebra, another modern package manager.
These two package managers beat Cydia to a punch as they're far better maintained, have more features, are faster to install tweaks, and do not need a lot of bandaids to work. Ever since saurik abandoned Cydia a few years ago, it's been considered abandonware and only kept working by a bunch of third-party developers that have since stopped caring too.
While the nostalgia is great and all, Cydia is nowadays old and deprecated with no developer willing to keep it updated. We do recommend Sileo and Zebra as these are actively developed and maintained on modern iOS.
Download Cheyote Jailbreak IPA File
The Cheyote Jailbreak is currently in development. Once the release is available, you can download the Cheyote Jailbreak IPA file on our Jailbreak Downloads page.
The jailbreak comes in IPA file format, which means you need to sideload it to your device using a computer and a tool like Sideloadly, AltStore, iOS App Signer, or something similar of your choice.




Cydia Impactor used to work for sideloading IPA files, but it's no longer functional, and saurik doesn't maintain it anymore. Our recommended sideloading tool is Sideloadly because it's free and works on both Windows and macOS.
Like any other sideloaded IPA file, if you sideload using a free Apple Developer account (Apple ID), you will need to re-install the app every 7 days. It's a limitation imposed by Apple to prevent piracy. Paid developer accounts cost $99 / year (paid directly to Apple), but allow you to sideload as many apps as you want for 1 year which is worth it in the long run.
Cheyote Jailbreak itself doesn't really care if you use a free or paid Apple ID to sideload it. It works with both.
Status: Currently unreleased, it's in development. Be patient.