iOS devices have been historically unprotected when it came to resetting to factory settings, however, Apple introduced early on iOS 6 the Activation Lock which ties the iOS device with the last Apple ID and password used on the device if FindMy is turned on.
This had the advantage of discouraging thieves from stealing iOS devices as they could be remotely localized, wiped, and locked, rendering them useless for the thief. Unfortunately, many innocent people were caught in the crossfire when they forgot the Apple ID or Password used on the device and found themselves locked out of their own device.
There is also the issue caused by eBay and second-hand market sellers who, purposefully or by mistake, leave the device tied to their Apple account when they sell it. Buying such device may not be obvious at first because the device may be able to work as intended until the user either updates the device to a newer iOS version, or factory resets it.
iCloud / FindMy Activation is abused a lot by scammers who sell locked devices and charge a lot extra to unlock them. Such scams have been popular on eBay and similar websites, but even buying in person may not prevent them from happening.
If you found yourself in such a situation, and you have any of the currently supported devices, you might be able to use KeyPass.
Supported devices and iOS versions
StarzSoft's KeyPass supports the following iOS device and iOS version combinations. If your device is not in the list below, it will not be supported.
iPhone models:
iPhone X
iPhone 8 Plus
iPhone 8
iPhone 7 Plus
iPhone 7
iPhone 6S Plus
iPhone 6S
iPhone SE
iPhone 6 Plus
iPhone 6
iPhone 5S
iPad models:
iPad Mini 4
iPad Mini 3
iPad Mini 2
iPad 7th Generation (2019)
iPad 6th Generation (2018)
iPad 5th Generation (2017)
iPad Air 2
iPad Air
iPad Pro

12.9-inch 1st Generation

iPad Pro (2015)

iPad Pro 12.9-inch 2nd Generation

iPad Pro (2017), 9.7-inch

iPad Pro (2016), 10.5-inch

iPad Pro (2017)
iPod Touch models:
iPod Touch 7th Generation
iPod Touch 6th Generation
For resetting the forgotten passcode, all devices including the newest are supported on iOS 11.0 – 16.0!
Key features of StarzSoft KeyPass
Aside from being able to bypass the iCloud Activation on the aforementioned devices, KeyPass can also fix the "iPhone is disabled" message on the lock screen, reset the device if you've forgotten your passcode, and even bypass the "Unable to activate" error that occurs on some older iOS versions.
Of course, you can also use KeyPass to bypass the activation if you don't have the correct SIM card to activate the device. SIM-locked devices will require a SIM card from the correct carrier to be inserted when activating the device, otherwise, you'd get stuck on the Setup screen. With KeyPass you can easily skip that as well.
Important caveats
KeyPass' activation bypass uses the checkm8 exploit in the background, which is only compatible with iPhone 5S up to iPhone X. NEwer devices like iPhone XS, XR, iPhone 11, 12, and so on will never be supported by checkm8, and as such KeyPass doesn't support these devices for now.
Bypassing iCloud Activation also results in no signal / no service for your SIM card. After bypass, you will not be able to place any calls or receive SMS. The SIM card would not connect to the network. You can, however, connect to WiFi and Bluetooth, and you can place internet calls through apps like Messenger, WhatsApp, Discord, etc.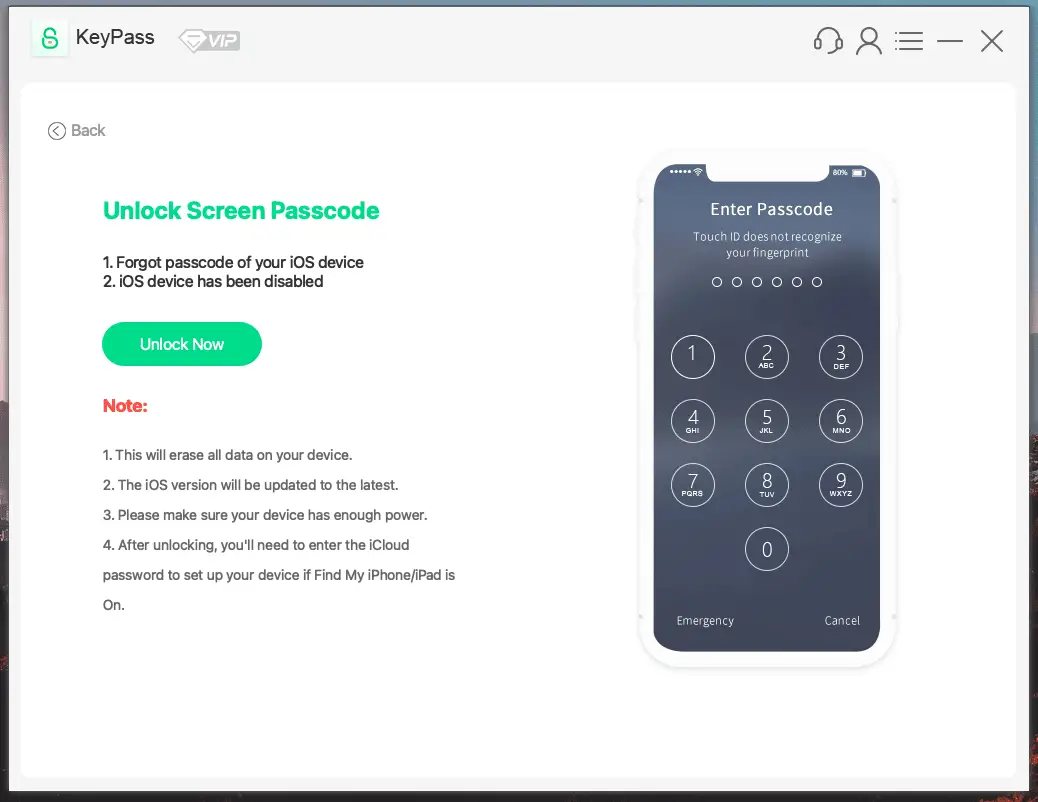 How to Unlock iPhone Lock Screen and Activation Lock Using KeyPass
Step 1: Download StarzSoft KeyPass from here (Supports both Windows and macOS).
Step 2: Connect your device to the computer using a USB cable.
Step 3: Press the green Unlock Now button and wait for the instructions on the program.
Video tutorial for KeyPass
This article is sponsored by StarzSoft.
NOTICE: This article contains links that are part of paid product placement / advertising.