For those who have used Unc0ver Jailbreak before, the name Substitute may be familiar as the tweak injection system was developed by Unc0ver developer Sam Bingner to replace the old and heavily deprecated Cydia Substrate.
It was also Sam Bingner who kept Cydia working for Unc0ver all these years after the original developer, saurik, decided to abandon the Cydia project a few years back.
What is Substitute and why Unc0ver jailbreak needs it?
Substitute is the framework that powers the tweaks on Unc0ver jailbreak. Essentially, all tweaks that you install from Cydia under Unc0ver require Substitute in order to run on your device. Substitute injects the tweaks into the appropriate processes so that the modifications implemented by the tweak would apply.
For example, if we develop a tweak that changes the font color of the App labels on the Home Screen (SpringBoard), on Unc0ver it's Substitute that takes the tweak and injects it into SpringBoard so that we achieve the desired effect.




On the jailbreaks produced by Coolstar / The Odyssey Team, there is no Substitute, but rather there is libhooker which does exactly what Substitute would do, just in a different way.
All these (Libhooker, Substitute, Cydia Substrate, etc) are called collectively Tweak Injectors and without them, the jailbreak will be largely useless.
Unc0ver Jailbreak's Substitute Tweak Injection Was Updated For iOS 15 and iOS 16
Prior to today's update, the last update for Unc0ver's Substitute was back in 2021 when it fixed a Corellium-related error. Today's update, however, brought support for iOS 15 out of the blue and also fixed the PAC (Pointer Authentication Codes) for iOS 15 on A12+ devices (iPhone XS, XR, and newer).
The latest version of Substitute is currently 2.3.0 available on Sam Bingner's repo. The changelog mentions:
Add support for iOS 15 and iOS 16
Fix PAC support on iOS 15
Could this mean that the Unc0ver Team might be developing an iOS 15 jailbreak? It's possible. The developers behind Unc0ver (Sam Bingner and Pwn20wnd) haven't said anything in a very long time, with Pwn20wnd's once active Twitter account being now mostly dead.
However, the Unc0ver Team has built a reputation for releasing an unexpected jailbreak out of the blue and then disappearing again for months.
For now, nothing is 100% confirmed about Unc0ver Jailbreak for iOS 15, but Substitute being updated for iOS 15 is a very good sign. Sam Bingner at least seems to still be interested in updating these, even without Pwn20wnd's intervention (by the looks of it).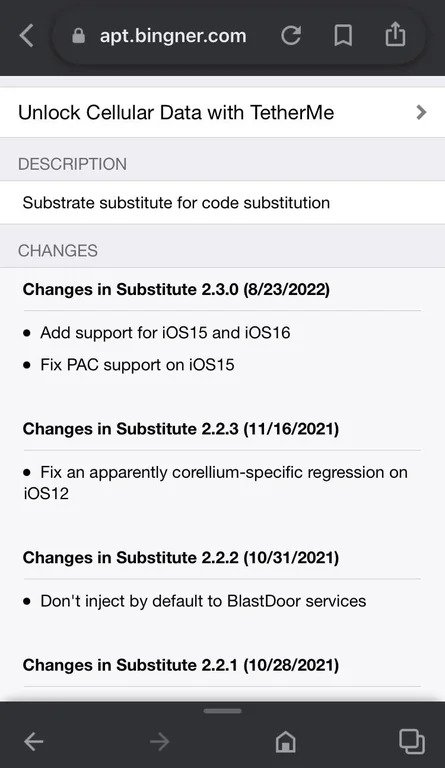 Should we expect Unc0ver Jailbreak for iOS 15?
I wouldn't hazard as to say an Unc0ver Jailbreak for iOS 15 is imminent, but there would be no other good reason to update Substitute for iOS 15 if there's no jailbreak for iOS 15 to use it. And it's not updated for Cheyote Jailbreak either, because that jailbreak uses Libhooker and is not compatible with Substitute.




The substrate is maybe the most important component inside Unc0ver jailbreak. It's what allows tweaks and themes to run on the device, so updating it for iOS 15 would make no sense if they don't also plan to update the jailbreak tool that takes advantage of Substitute, to begin with, however, any info about an iOS 15 Unc0ver release is currently pure speculation.
Major issues with Substitute 2.3.0 update
Many people who have updated to the latest 2.3.0 build of Substitute today claim that all their tweaks suddenly stopped working. They say downgrading back to the 2.2.3 version from 2021 fixed the tweaks back, so it appears that the iOS 15 update massively broke Substitute.
It's best to stay on v2.2.3 for now or if you upgraded your Substitute, go ahead and downgrade it back if you are facing any issues with tweaks. It's unknown what causes the issues, but it's likely related to the updates done to add iOS 15 support.
As always, the latest Jailbreak tool releases can be found on our iOS Jailbreak Downloads page.
Other guides from iDevice Central