What are scam and spam calls?
Spam calls, scam calls, unsolicited marketing calls, and text messages have been going out forever, however, in recent years the amount of these calls has increased exponentially. Usually, these spammy calls come from scam call centers in India, Pakistan, and other neighboring countries where the income is low and they can find low-pay workers.
Many of these scam call centers pretend to be various governmental offices, such as the IRS and they often claim that you either committed tax fraud and you must pay a fine, or that they're calling from your bank and there is something wrong with a transaction you made.

The scam works well, unfortunately, especially with elderly people who are not tech-savvy. The scammers convince them to either pay an amount of money via Western Union or buy Google, iTunes, Target, etc. gift cards.
Of course, there are also legitimate yet spammy marketing calls that would call you about new products, sales, new offers, and so on.
Many of these spam calls are coming from VoIP numbers because, in order to appear legitimate, these scam call centers in India and other countries are using VoIP software that gives them phone numbers that look like normal United States phone numbers.
By using VoIP numbers, the scammers can easily generate new numbers when the old ones eventually get banned or blacklisted.
How To Block Scam / Spam and Marketing Calls on Android using RoboCall Blocker
There are multiple ways to block calls on Android, far more ways than on iOS. One of these methods is a free application called RoboCall Blocker, which is available in the Google Play store. The application allows you to block spam/scam calls and SMS automatically, and it provides a great degree of customizability.
In the settings page of the application, you can find a toggle that allows you to block all VoIP calls which is a great blanket method to block most spam calls as those call centers usually use VoIP software to call you.
The application also has a Fraud SMS detection system that catches the SMS messages from scammers pretending to be shipping companies, Amazon, your bank, or other services.
Those SMS messages work by scaring you that you have an unpaid bill or that a parcel is being shipped today, and they provide you a link for tracking the parcel or the bill. Once you click that link, they either infect your device with malware or make you provide personal info by simulating a legit UPS or bank website.

RoboCall Blocker detects these messages and filters them out. There's also a phone number reverse lookup feature that allows you to see where the caller is from, whether the number is blacklisted, etc.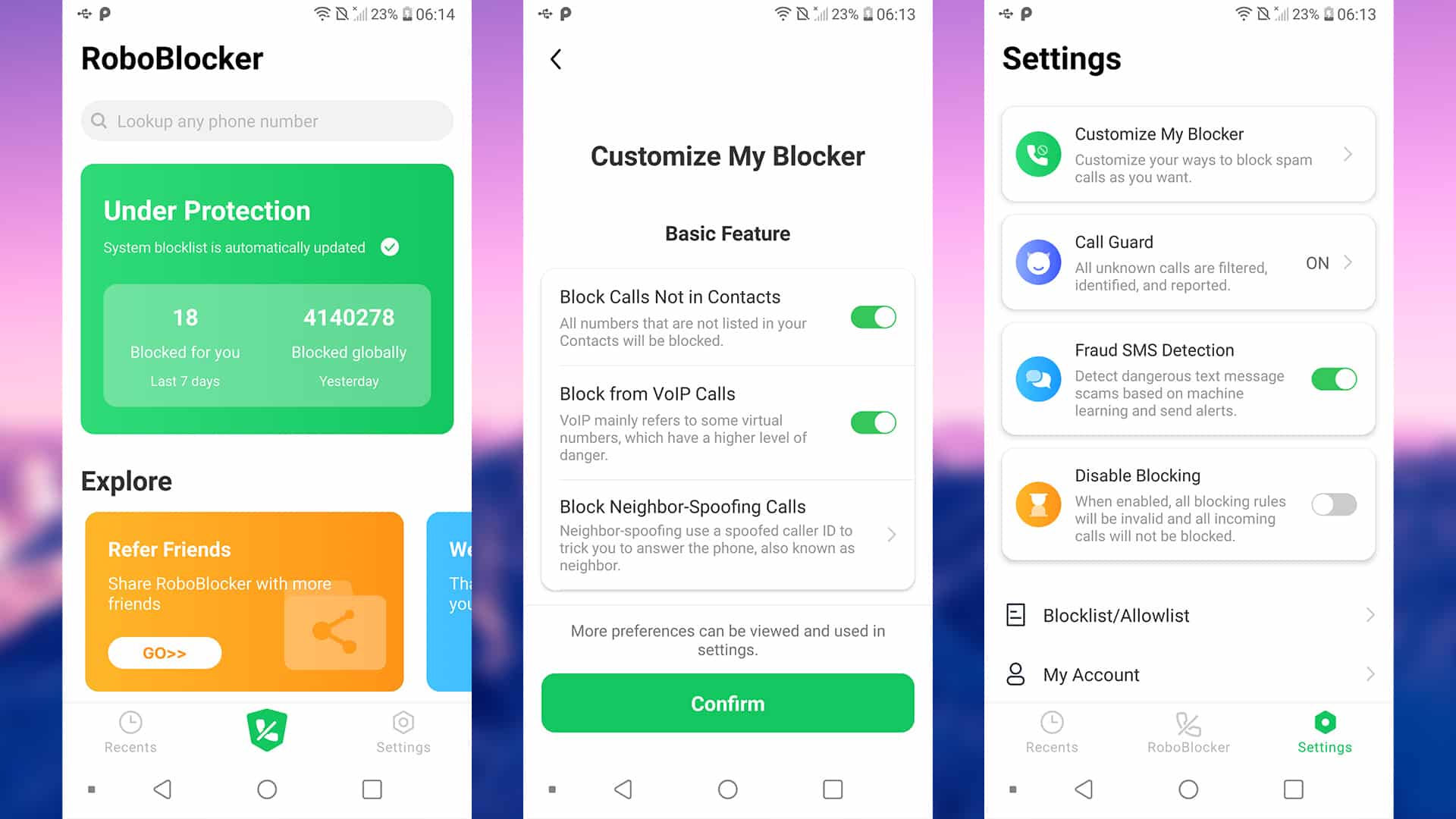 The application knows if a number that calls you is a scam because it compares it quickly to a global blacklist of spam numbers that is updated daily. If the number calling you is there, it will automatically be blocked and you will receive a notification about that. There is also the option to enable background monitoring which sets an exception for the app in the Power Saving settings. This allows the app to block scam numbers more accurately.
RoboCall Blocker is currently only available in the United States, but they are planning to expand it to other countries as well. Currently, all carriers in the U.S. are supported.
Blocking calls with the built-in Android feature
It's also possible to block calls using Android's default block number feature, but that only allows you to block specific numbers and it's ineffective against scammers because they often rotate multiple numbers.
The default android call block features lack the ability to monitor scam calls actively, and can only block numbers you've manually specified. Some Android devices notably lack this feature altogether.
Overall, the default call block feature is not recommended to protect against scams. Applications like RoboCall Blocker do active monitoring and compare against a daily updated scam numbers list which is much more effective.

Where to get RoboCall Blocker?
You can get the RoboCall Blocker application in the Google Play Store right here.
Other guides from iDevice Central
Photo by NoWah Bartscher on Unsplash
NOTICE: This article contains links that are part of paid product placement / advertising.