Palera1n jailbreak is the true successor of the well-known checkra1n jailbreak for people who are running iOS 15.0 up to iOS 16.4 on iPhone X or older devices. The jailbreak is powered by the same powerful bootrom exploit called checkm8 released by developer axi0mx back in 2019.
Palera1n has been in development since the fall of 2022 and it is shaping up to be a very reliable and powerful jailbreak utility with lots of developers behind it pouring hours into its development. Recently, a major rewrite has been released for Palera1n. The devs rewrote Palera1n in C in order to replace the bash script version that was available since the beginning.




Palera1n Jailbreak Team updated their jailbreak website with smart download links
Earlier today, the Palera1n team updated their website to automatically be able to detect the browser user agent of the user. This has the implication that they can transform the download button on the page to give the user the proper build for their system.
For example, if you have an Intel-based Mac, the website now detects this and the download button will automatically serve you the Intel Mac version of Palera1n. The same applies to Apple chip Mac, and so on.
Aside from this, the Palera1n team made the website much more user-friendly. It now contains information about each release, including the changelog as well as any notes they may see fit. This way, the website can easily guide a jailbreak newbie to get the appropriate version of Palera1n and to understand what devices are compatible.
The website now also features the Known Issues section which tells the user if there are any major bugs or issues with the current build. Of course, all this information could have been obtained from the GitHub readme page of Palera1n, but having a true website makes it much more user-friendly.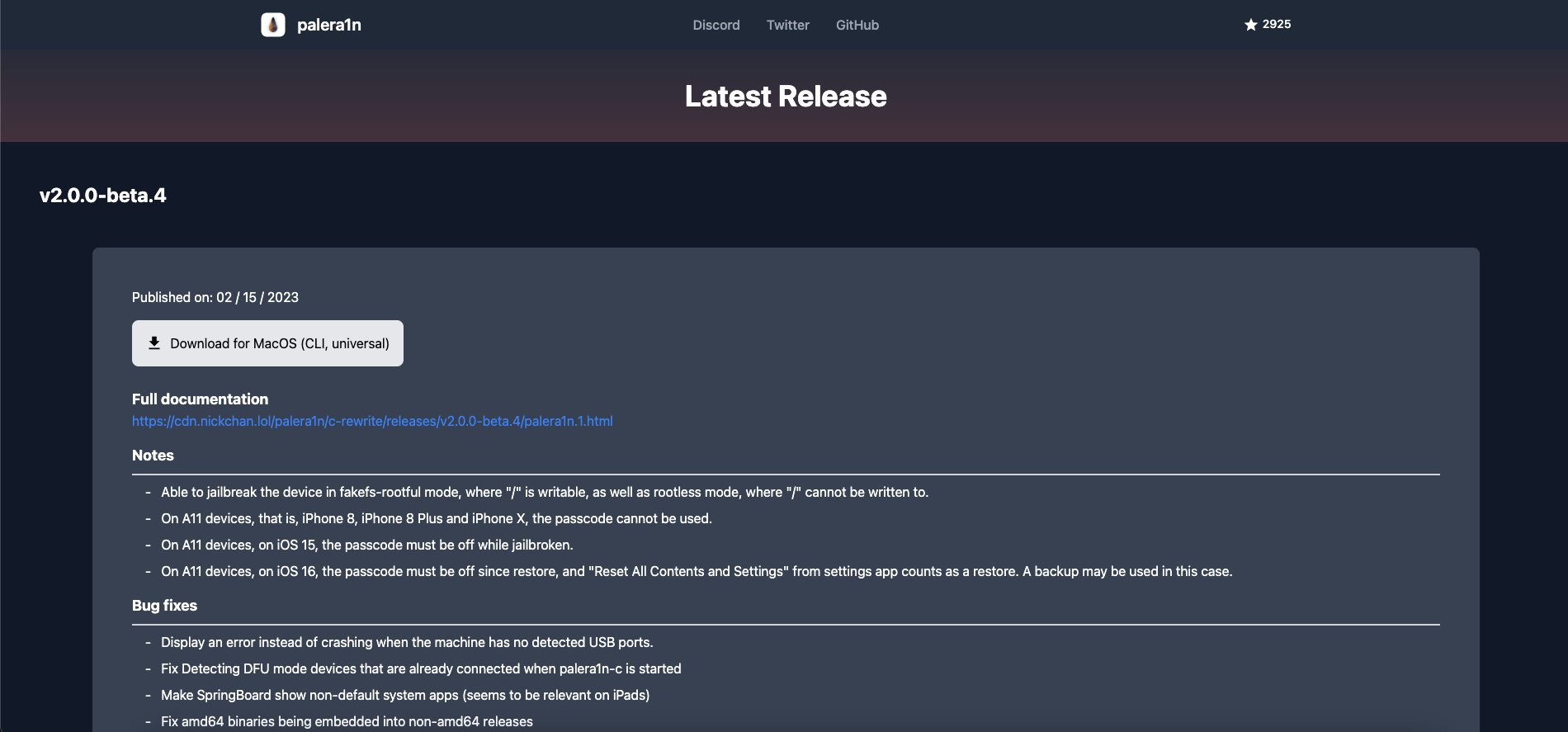 All Palera1n builds in one place
At the bottom of the new Palera1n website, you can find a section containing all the builds currently available. No matter if you use Linux or macOS, you can find the appropriate architecture download there.
Currently, the following builds are available:
macOS (CLI, Universal)
Linux (CLI, x86_64)
Linux (CLI, i686)
Linux (CLI, armel)
Linux (CLI, arm64)




You can get them from the official palera1n website, https://palera.in
Is there PaleRa1n for Windows?
There's currently no official Windows build of Palera1n. If you have a Windows PC, you need to make a bootable flash drive with Live Linux and boot into it every time you use PaleRa1n. You can reboot back to Windows after that, as the Linux install remains on the flash drive instead of your Hard Disk.
There is no true Windows binary you can run for PaleRa1n, and Virtual machines may not work. Dual-booting or Live booting Linux is the best choice if you don't have a Mac.
What devices does Palera1n jailbreak support?
You can use PaleRa1n Jailbreak on any checkm8-compatible device, which is basically A11 and lower devices. The following devices are compatible and can be jailbroken with Palera1n on iOS 15.0 all the way up to iOS 16.4 with tweaks working:
iPhone X
iPhone 8 / 8 Plus
iPhone 7 / 7 Plus
iPhone 6S / 6S Plus
iPhone SE
iPhone 6 / 6 Plus
iPod touch (7th generation)
All A11 and lower iPads.
Other guides from iDevice Central