With iOS 16 finally being jailbroken first by PaleRa1n, there's a lot of opportunity for customizing your iOS device. The best iOS features that made their way to stock iOS releases usually came from jailbreak tweaks that inspired the Apple developers to implement them in stock iOS.
Such was the case with Copy and Paste, f.Lux, and many other tweaks.
iOS 15 was also a great firmware to stay on before iOS 16 was finally jailbroken (which took a while on the newer devices), so in this article, we're taking a look at the Top 20 Best Jailbreak Tweaks for iOS 15 and iOS 16 for all major jailbreaks.
These tweaks work fine with:
PaleRa1n Jailbreak
XinaA15 Jailbreak
Unc0ver Jailbreak
Taurine Jailbreak
Odyssey Jailbreak
CheckRa1n Jailbreak
From customizing your iOS device the way you like to removing odd and annoying iOS features, here are our Top 20 Best tweaks to get on iOS 15 and iOS 16:
10. CarBridge
CarBridge is a jailbreak tweak that allows you to get a much better CarPlay experience. It's basically what CarPlay should have been right from the start, and it allows you to open any application you want via CarPlay in your car, and not only the pre-defined ones.
The tweak allows the whole iPhone screen to be mirrored to the car's infotainment system, and you can control the apps right from your car's touchscreen. It's what CarPlay should be from the factor, but oddly enough, it is not.
CarBridge brings you these features, but it does not come cheap. You can obtain the tweak from Packix for $9.99
Download CarBridge on your Jailbroken iOS device
9. AutoUnlockX
This tweak allows you to unlock the device directly (if you have Face ID) if there are no notifications to read, instead of having you swipe up even after your face has been detected. This will only auto-unlock your FaceID-enabled device if there is no unread notification, making it perfect for quick unlocking when there's nothing there to be read.
This free tweak works on all FaceID devices starting from iPhone X and going all the way to iPhone 12.
Download AutoUnlockX (SparkDev's Repo)
8. Filza File Manager
It's impossible to make a Top Tweaks list and not include Filza. It's maybe one of the most essential tweaks ever developed for jailbroken iOS and it's likely what inspired the stock Files application which is just a gimped version with barely any features – Thanks Apple.
Filza File Manager is a complete file manager with file opening capability. It can handle several types of file formats including DEB tweak files that it can install just like Cydia would. Filza allows you to fully browse the whole filesystem leaving no stone unturned.
With Filza you have full ROOT access over your device which means that every single file can be modified, from the battery charging sound effect to the Lock Screen text. It's a powerful tool with powerful access to the device. It's often very useful when your jailbreak breaks because of a rogue tweak.
Filza can also expose various files over to the network using its built-in WebDAV capabilities. It's also able to open files downloaded from Safari directly. Filza also has a built-in Terminal so you can run commands in bash if you need to fix your jailbreak and you do not have NewTerm2 or SSH installed.
Some other of the features Filza has:
Hex Editor
File Viewer
SQLite Database Editor
IPA and DEB Installer
Madia Player supports both audio and video formats
Archive tools for zipping and unzipping supporting ZIP, 7zip, tar, rar.
File and folder search bar
Music Library manager (easily export and import)
Supports Windows File Sharing through SMB.
Cloud Services Support (FTP, SFTP, WebDav, Google Drive, Dropbox, Box)
Download Filza File Manager (BigBoss – FREE)
7. Snowboard
A few years ago, the tweak to go when you wanted themes on your jailbroken iPhone used to be Winterboard. After Winterboard died down, Anemone and Anemone 3 took their place up until iOS 12 when it too mostly died down. It's still popular amongst Coolstar's fans, but the tweak to go now is Snowboard.
SnowBoard allows easily installing and deploying iOS Themes from Cydia, Sileo, or Zebra on all jailbreaks. You can easily disable or enable themes, icon masks, and various effects. Snowboard creates a new Settings panel where all your themes get installed and you can easily switch between them by just enabling the theme you want and disabling the one you don't. You do not even need to respring your device for the icons to apply.
Snowboard is completely free.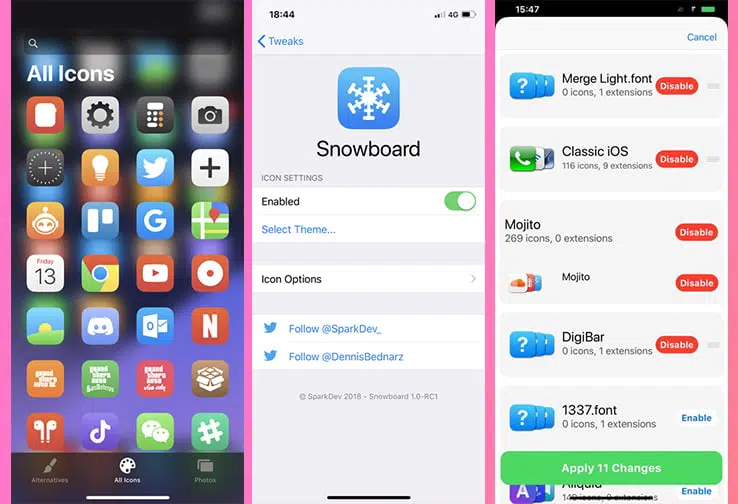 Download Snowboard (SparkDev – Free)
6. Snapper 2
Snapper 2 is truly amazing – it has a feature that should have been on iOS for a long time now, and it would have given a boost on productivity to many people, but instead, Apple mostly keeps it for iPadOS where multitasking is a thing.
In other words, Snapper 2 allows you to take a cropped screenshot of something on the screen, and then have it floating on the screen in a corner while you enter another app. This way you can reference back what you've screenshotted without leaving the app you're working in.
Now exactly like the multitasking windows on iPadOS, but still better than having to go back and forth between apps.
Download Snapper 2 ($3.00 on Packix)
5. iCleaner and iCleaner Pro
This is another must-have for your collection. iCleaner has been around for a long time and it's godsent when your device starts running low on storage space. Compared to all the fake cleaners in the AppStore, iCleaner is the real deal.
The tweak, compared to those AppStore fakes, has full root access and sandbox escape, which means that it can actually perform a cleanup because it can access the files on the device.
Every scan I run with iCleaner once in a while finds a ton of temporary files and caches that if removed, free me over 1-2 GB of storage which can be a lot when you have one of the lower storage space variants of the iPhone, such as the 16 GB one or nowadays, the 32 GB variant.
iCleaner analyzes the file system and tells you what can be deleted to free up space. It never deletes your personal files or photos. iCleaner concentrates on tweak dependencies, temporary files, caches, web files, attachments, and so on.
What is even better about it, iCleaner is free and works on all current jailbreaks. The PRO version exists, and it gives even more features, such as selectively disabling iOS daemons, tweaks, and so on.
I highly recommend the free version for your arsenal.
Download iCleaner (BigBoss – Free)
4. EasyDialer14
Do you remember the old T9 feature from back in the day? It used to be on all devices, except the iPhone for some reason. If you feel like having T9 (comes from Text on 9-Keys) on your iOS device, I cannot recommend EasyDialer14 enough. It's the best tweak for this purpose, and although it's very niche, it certainly does its job well.
I am well aware most people who jailbreak nowadays probably never used T9 before and don't even know what it is, but for those few who need it, EasyDialer14 exists.
Download EasyDialer14 (BigBoss – Free)
3. Springtomize
If customization is what you have in mind when you first jailbreak your device once a new iOS version is out, then Springtomize is a must-have for you. Not but really. I can't even begin to describe how many parts of iOS can be customized with this tweak.
Springtomize can easily customize the following iOS components:
Animations
App Switcher
Control Center
Dock
Folders
Icons
Lock Screen
Pages
Status Bar
Notifications Center
Many more
Springtomize also allows you to increase the rows and the size of your home screen icons making it one of the biggest customization platforms on iOS 14 and 13 alike.
It's neatly organized so that you can choose what category you wanna customize and then go wild with whatever makes you feel great with your device. Springtomize even supports profiles so that you can apply different customizations for different scenarios.
Download Springtomize (Packix Repo – $4.99)
2. AdaptiveHome
This is a very simple, yet pretty neat tweak that allows you to customize the color of the home bar on the devices with a notch (iPhone X onwards) to match the accent color of the application currently open.
Let's say you have an application that has a lot of red on the current screen. The home bar (the long line from the bottom of the screen that you drag to go to the home screen) will also become a shade of red to match the app accent.
Not a sophisticated tweak but it allows yet another degree of customization for iOS 14 and 13.
Download AdaptiveHome (Miro92 Repo – Free)
1. BatteryBuddy •ᴗ•
BatteryBuddy is what I call a cute tweak, and once you try it once, you'll know what I am talking about. Once this tweak is installed, the battery icon gets a facial expression depending on the current status. Low battery? Sad face. Charging? Happy face •ᴗ•. If the battery is half empty the face changes to a poker face "o-o".
This isn't necessarily a must-have tweak, but it's pretty cute and many will likely find it nice to have. Gives the battery icon a bit more personality.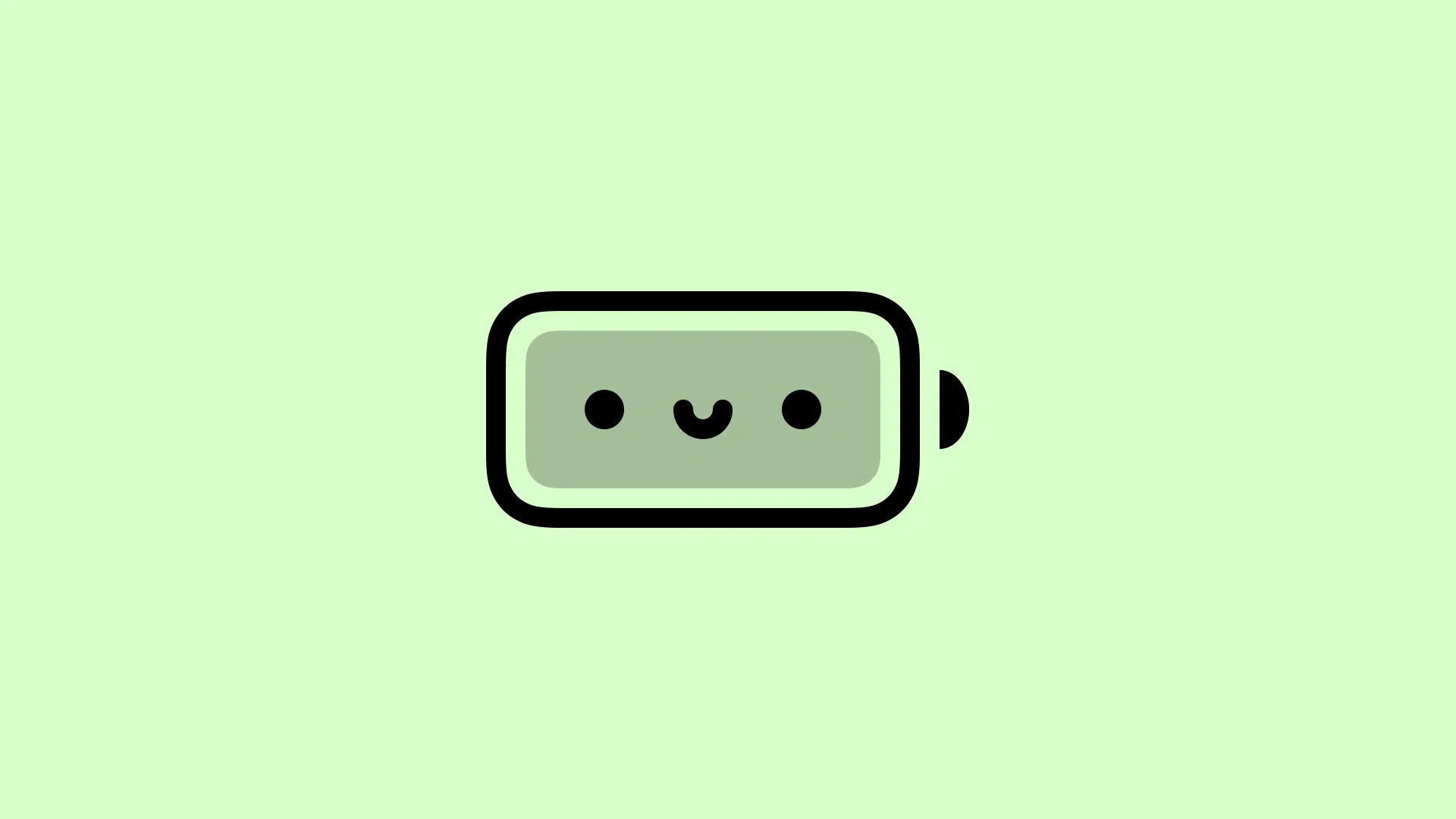 Download BatteryBudy (Litten's Repo – Free)
Other Jailbreak Tweaks you should check out
You should also check out these tweaks if you're currently jailbroken. They're often making it to the top lists, so they're all worth taking a look at.
BigSurCenter – $1.99 – Gives you macOS Big Sur Control Center on iOS.
CallFavorites – FREE – Lets you 3D-Touch on the Phone icon to call favorites.
Cylinder Reborn – FREE – The amazing OG Cylinder animations now on iOS 14!
Déjà Vu – FREE – Always-On display for iOS, and a pretty neat one at that.
DeleteForeverXS – FREE – This allows you to permanently delete a photo right from the trash can icon, instead of moving it to deleted photos album.
DockX Reborn – $1.00 – If customizing the Dock on iOS and iPadOS is what you want, you've hit the motherlode.
Eneko – FREE – Allows you to set video wallpapers with minimal system overhead.
Atria – One of the most advanced Home Screen customization tools out there.
Marker – FREE – A Much better cursor control on iOS. If selecting text on iOS is as annoying to you as it is for me, you need this.
MediaBar14 – $1.49 – Brings a few small media control buttons on the bottom of the screen to easily control music playback.
Perseus – FREE – Allows you to unlock your iPhone with FaceID even with a face mask on. Yes, even if you don't have iOS 14.5.
ReProvision Reborn – FREE – Resign IPA Applications right from your jailbroken device.
What is your favorite tweak of all time?
Tell me in the comments section down below.
Other guides from iDevice Central