Apple Pay Later, a service that allows consumers to pay for purchases over time, was introduced by Apple on a limited basis a few hours ago. According to an Apple press release, the company is beginning to invite randomly-selected users to use the test version of Apple Pay Later via the iOS Wallet app.
If you are one of the lucky people selected to test the initial version of Apple Pay Later, you will receive an email on the mail account linked to your Apple ID.
Currently, Apple Pay Later is only available in the United States and requires the newly released iOS 16.4 and iPadOS 16.4 which just left the beta stage earlier today. If you are running an older version of iOS or iPadOS, you will not be eligible to use Pay Later until you update your device to the latest iOS 16.4 build.




When will Apple Pay Later be available for me?
According to Apple's press release, Apple Pay Later will be available to all eligible iPhone users over the age of 18 in the United States in the "coming months".
There is no set release date for a wider launch of Apple Pay Later, but if you're in the U.S., you may get it soon. Apple did not provide any information about a release for the rest of the world, so it appears this feature may be U.S.-only for now.
Apple Pay Later is currently not available in Hawaii, Nevada, New Mexico, North Carolina, Wisconsin, and the U.S. territories.
What is Apple Pay Later?
This feature was first announced back on WWDC 2022 and it is basically a financing option where you buy your items now and pay for them later. It allows you to purchase an item now using Apple Pay and split the payments into four equal transactions over six weeks. On top of that, this is interest-free and has no additional fees for you to pay. The way this works is that Apple pays for your item and you repay Apple over time.
You may apply for loans between $50 and $1000 from Apple for online or in-app purchases made with Apple Pay from your iOS devices. While users can apply for this kind of loan directly in the iOS Wallet app with no impact on their credit, Apple will issue a quick credit check before making Apple Pay Later available as a payment option. This is likely to prevent fraud.




The credit verifications are done by Apple Financing LLC, a subsidiary of Apple using services provided by Mastercard Installments, so stores that accept Apple Pay already will not need to do anything else to support Apple Pay Later.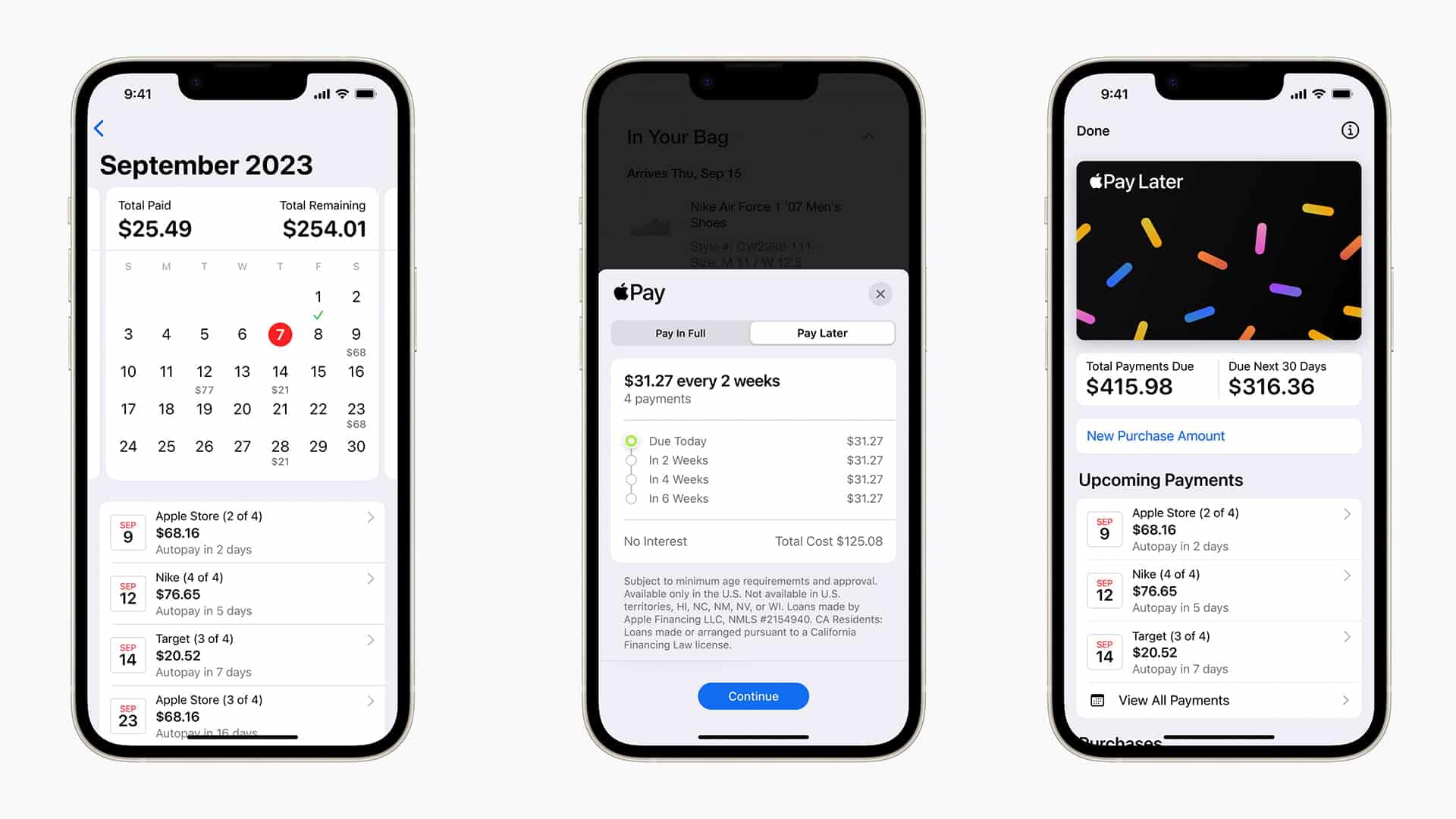 What are the requirements to qualify for Apple Pay Later?
According to an Apple support document, you need to meet the following requirements before you can qualify for Apple Pay Later loans:
How to set up Apple Pay Later
Open the Wallet application on iOS or iPadOS.
Tap the ADD (+) button.
Select Set up Apple Pay Later, then tap Continue.
Follow the instructions that appear to request an Apple Pay Later loan.
Tap Next, then verify your data such as your name, date of birth, and address.
Review all your personal info, then tap Agree & Apply.
Review your payment plan info and loan agreement details, then tap Add to Wallet.
Now you can use Apple Pay Later to pay for your purchase, including shipping and handling.
IMPORTANT: You can use your Available to Spend amount to make a purchase up to 30 days after you're approved. Make sure to use the amount before the time expires.
Other guides from iDevice Central
Other websites of ours:
Check out our Attack on Titan: Wings of Freedom Game Review!