The release of the MacDirtyCow exploit caused many tweaking applications to be released. Those applications allowed users to install various jailbreak-like tweaks on their iOS devices without being jailbroken and without being detected by jailbreak detection.
Amongst the many tools based on MacDirtyCow, Cowabunga shined with its plethora of tweaks and themes available to install. You can customize many things on iOS 14.0 – 16.1.2 on all devices, including home screen icons, status bar, lockscreen, audio, fonts, animations, colors, etc.
The original Cowabunga was compatible with iOS 16.1.2 and lower because MacDirtyCow supported only that version range, however, developer @LeminLimez figured out a way to port Cowabunga to iOS 16.2 and newer, even without MacDirtyCow. They dubbed this "Cowabunga Lite" because it doesn't have as many features as the original.




What can you do with Cowabunga Lite?
Cowabunga Lite is not as powerful as the original MDC Cowabunga, however, considering the fact that the Lite doesn't use any exploits, this is rather impressive. Amongst the tweaks you can currently apply with Cowabunga Lite, we have:
Easy shortcut theming (with no banner) –

Status bar tweaks (custom carrier name)

OTA killer

Device Supervision

Lock Screen footnote

Mute module in Control Center (CC)

Other minor toggles and tweaks
Cowabunga Lite For Windows Coming Soon! Tweaks and Themes for iOS 16.0 – 16.5 No Jailbreak
A couple of days ago, developer @LeminLimez announced that Cowabunga Lite Beta 3 is now available. With this update, they've also announced that future Cowabunga Lite updates are currently on pause for a short time as it is being rewritten in Rust.
With this rewrite, Cowabunga Lite will soon be available for Windows, Linux, and macOS. This is important because compared to the original Cowabunga which was an iOS App (IPA file), the Cowabunga Lite is a computer program designed to run originally on macOS.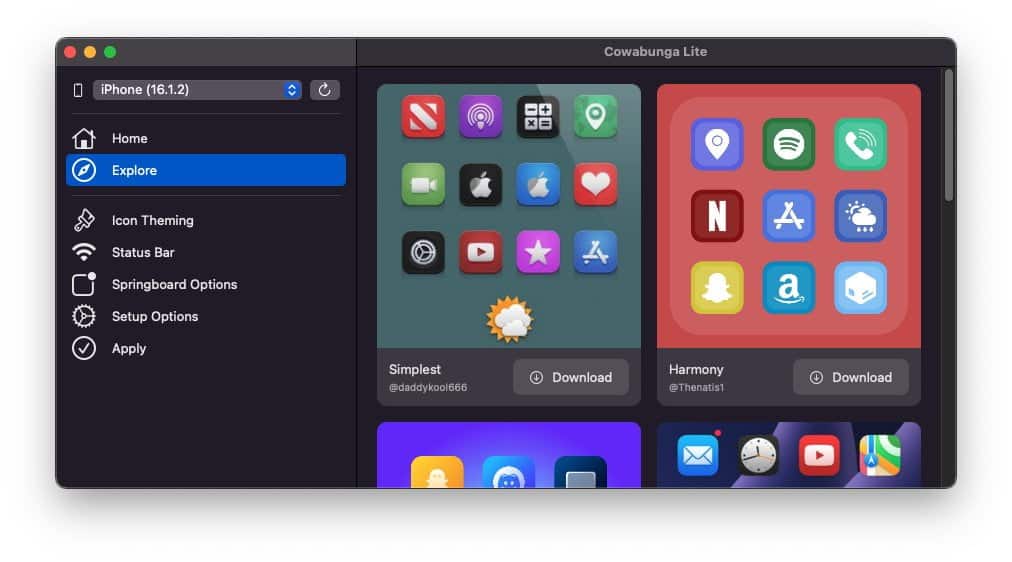 You need to plug in the iPhone, iPad, or iPod Touch to your computer and use the Cowabunga Lite program in order to activate the tweaks and themes.
Cowabunga developer @LeminLimez told iDevice Central in a Twitter DM that features like Custom Control Center Layout, and having shortcut apps automatically be organized will come later. 
It's likely that Cowabunga Lite will continue to get more tweaks and the iOS support will also continue to get better. According to the developer, future versions of iOS, such as iOS 16.5 will likely be supported too.
Cowabunga Lite beta 3 is out
Cowabunga Lite updates are on pause for a short time as it is being rewritten in rust
Soon it should work on all platforms, Mac, Windows, and Linux
Exact version compatibility is currently unknown

— LeminLimez (@LeminLimez) April 11, 2023
What devices and iOS versions are supported by Cowabunga Lite?
According to the developer, Cowabunga Lite works on all devices, including the newer ones like iPhone 13 and iPhone 14, and it supports all iOS 16 versions including iOS 16.5 which is currently in Beta.
If you're running iOS 16.0 – 16.4.1 on your main device, Cowabunga Lite is already compatible with your device. iOS 16.5 Beta is also supported, but we don't encourage using Beta iOS.
The original Cowabunga (i.e. the non-Lite version) supports iOS 14.0 – 16.1.2 on all devices. This is because the original Cowabunga takes advantage of the MacDirtyCow exploit (CVE-2022-46689) which was patched in iOS 16.2 while the Cowabunga Lite doesn't use MDC.
Cowabunga Lite to get more tweaks
Recently, in a Twitter poll, developer @LeminLimez asked the community on what features to work on next for Cowabunga Lite. Amongst the choices we can see the following tweaks:
Custom CC Layouts
Pseudo-Icon Masks
Location Simulation (Lite Only)
Overlays for every icon
Beware of Cowabunga Lite Scams
Since Cowabunga Lite is currently in development, the only way to obtain it is by being a patron on @LeminLimez's Patreon which supports Cowabunga development. Recently, various sources started selling Cowabunga Lite on shady websites which not only undermine the development process by denying the developer revenue but also expose the users to a great security risk.
If you are looking for Cowabunga Lite in its current beta form, head over to Patreon and support the development. If you don't want to spend any money on Cowabunga, just wait for Lite to be finished as it will become free for everyone once considered stable.
Other guides from iDevice Central