In this article, we'll check whether the iOS 17 Unc0ver Black Jailbreak is a legitimate tool or if it's fake.
The past couple of major iOS releases (iOS 15, iOS 16, and iOS 17) have been pretty difficult for the jailbreak community. Wait times in between jailbreak releases have grown significantly and it's not as straightforward as it used to be to jailbreak your device.
A quick search on Google for an iOS 17 jailbreak immediately pops up multiple jailbreak options, each ranking very high in SERPs and promising fast and easy jailbreaks with tweaks and no computer.
What is Unc0ver Jailbreak?
The Unc0ver Jailbreak, first released by developer @Pwn20wnd back in iOS 11 era is a semi-untethered iOS Jailbreak utility that comes with Cydia by default as its package manager.
Unc0ver used to be a viral tool during the iOS 11, iOS 12, iOS 13, and iOS 14 era. It supports tweak injection through Substitute (a Cydia Substrate successor), it's easy to sideload and install, and it is mostly stable.
However, this jailbreak supports iOS 11.0 up to iOS 14.8. It hasn't been updated in years and the developer behind it, Pwn20wnd, hasn't been active on his main Twitter / X account in many months.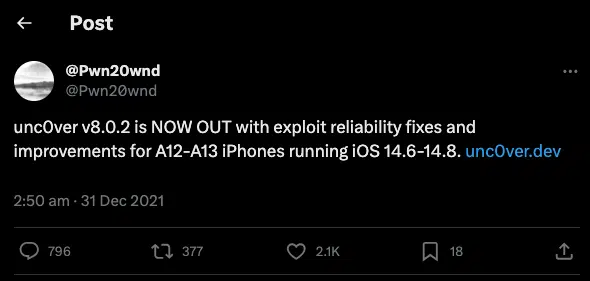 What is Unc0ver Black Edition jailbreak?
As it's become custom by now for the scammers in the jailbreak community, they took the name of a popular real jailbreak utility that people recognize and search for, and they made wild claims about it.
There are numerous fake jailbreak websites, all using a similar template and content, most of them ranking high in search, promoting Unc0ver Black Edition as being a real iOS 16 or iOS 17 jailbreak.
You can usually tell these jailbreak websites are fake when:
They contain jailbreak tools for iOS versions that have just been released and on the latest iOS devices.
They ask you to install various App Store apps or Games to get your jailbreak.
They claim to be iOS 17 or iOS 16 jailbreak tools without a PC (I wish…).
These websites tend to make dozens of iOS 16.x Jailbreak Downloads pages, plaster the same info about fake tools like Unc0ver Black Edition, and then redirect you to ads.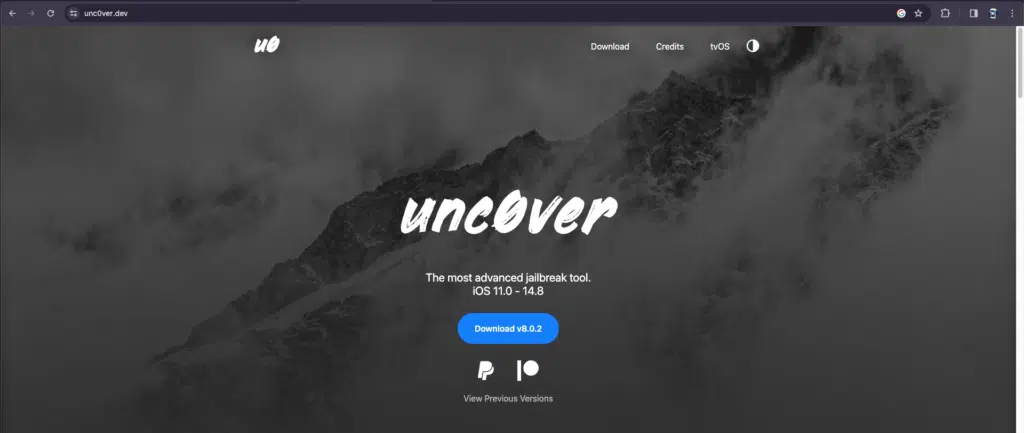 So is Unc0ver Black Edition a fake iOS 17 jailbreak?
Absolutely! At first, if this jailbreak was real, you can imagine that such an iOS 17 jailbreak released so fast after iOS 17's official release would have made headlines on all major iOS and Apple News websites. Instead, you can only find it on shady fake jailbreak sites.
Second, Unc0ver jailbreak's source code has been closed ever since iOS 12. Even if a kernel exploit was released for iOS 17 and somebody would want to update Unc0ver, they couldn't without direct intervention from Pwn20wnd which has been missing for years.
These fake iOS 17 and iOS 17.1 jailbreak tools are preying on the gullible for ad revenue.
My advice would be to avoid any such tools fully. If you cannot find that jailbreak on our website, it's likely a fake.
VERDICT: It's FAKE!
How To Download Unc0ver Black Edition IPA?
It's simple. DON'T. It's a fake.
The whole point of this page is to tell you that this is a fake jailbreak. Hopefully, with this title, we can rank up in search and prevent some people from being scammed.
Do not download jailbreak tools from pages you don't trust.
A real iOS 17 jailbreak was released!
While the fakes and scammers are quite common, there are still great developers in the jailbreak community working towards real projects.
Yesterday, the PaleRa1n Team officially released PaleRa1n jailbreak v2.0.0 Beta 8 which adds support for iOS 17.0 up to iOS 17.1 on pre-A12 devices.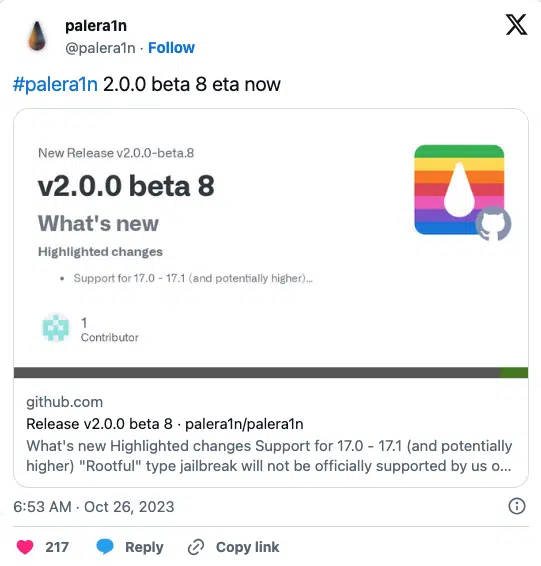 PaleRa1n Jailbreak is based on the unpatchable checkm8 BootROM exploit, however, that exploit only works on iPhone X and older. There are no compatible iPhones with these chips that run iOS 17, however, there are iPads, so technically it's an iPadOS 17 jailbreak.
Still, this is the only real iOS 17 jailbreak released to date. You can read more about PaleRa1n Jailbreak for iOS 17.0 – 17.1, as well as how to download and install it here.
iOS 17 Jailbreak Frequently Asked Questions (FAQ)
Is there a legit iOS 17 jailbreak available?
Yes. PaleRa1n Jailbreak supports iOS 17.0 – 17.1 and possibly even further, however, this jailbreak only works on A11 and older devices. Modern devices like iPhone 11, 12, iPhone 14, etc are not supported.
Is Unc0ver Black Edition a real jailbreak but for older iOS?
No. Unlike the real Unc0ver Jailbreak built by Pwn20wnd, Unc0ver Black Edition cannot jailbreak any iOS version, old or new. It's just a fake to attract clicks and Ad revenue.
Will iOS 17 be jailbreakable for modern iPhones (A12+) in the future?
Likely. iOS 17 as well as iOS 17.0.1, iOS 17.0.2, iOS 17.0.3, and iOS 17.1 all patch a lot of kernel vulnerabilities, CoreTrust vulnerabilities, WebKit bugs, etc. All of these could potentially be used for a jailbreak sometime in the future, but there are no guarantees.
Right now, your best bet would be to wait patiently on iOS 17.0 or as low as possible, and stay updated on iDevice Central for the latest jailbreak news.
More iDevice Central Guides