The PaleRa1n Jailbreak team just released their PaleRa1n Jailbreak for iOS 17.0 – 17.1. The jailbreak supports tweaks and comes with the Sileo package manager. Truly impressive.
There was a time when jailbreaking iOS 15 was only a distant dream. With the changes such as SSV introduced by Apple in iOS 15, many thought this would be the end of jailbreaking.
Fast forward a couple of months and we got PaleRa1n jailbreak to replace the by-then defunct checkra1n.
As iOS versions kept being released, PaleRa1n jailbreak was updated to support iOS 16 as well. Eventually, this jailbreak grew to support iOS 15.0 all the way up to iOS 16.6. Today, this is about to change.
PaleRa1n team releases the first ever iOS 17 jailbreak
Back in June 2023, the PaleRa1n team did announce they'd successfully jailbroke iPadOS 17 in under 24 hours. This was quite a great achievement at the time considering the iOS 17 Beta 1 was just released that day.
However, nothing happened after that. In fact, PaleRa1n jailbreak development slowed down quite a bit after that announcement, and no new updates regarding iOS 17 jailbreak were given.
Today, out of the blue, the PaleRa1n team released v2.0.0 Beta 8 which includes support for iOS 17.0 all the way up to iOS 17.1 and possibly even newer versions as they get released.
Since PaleRa1n is based on the Checkm8 BootROM exploit, it's impossible for Apple to fully patch this jailbreak. Changes from one iOS version to another may render it broken temporarily, but it's nothing the PaleRa1n team cannot fix.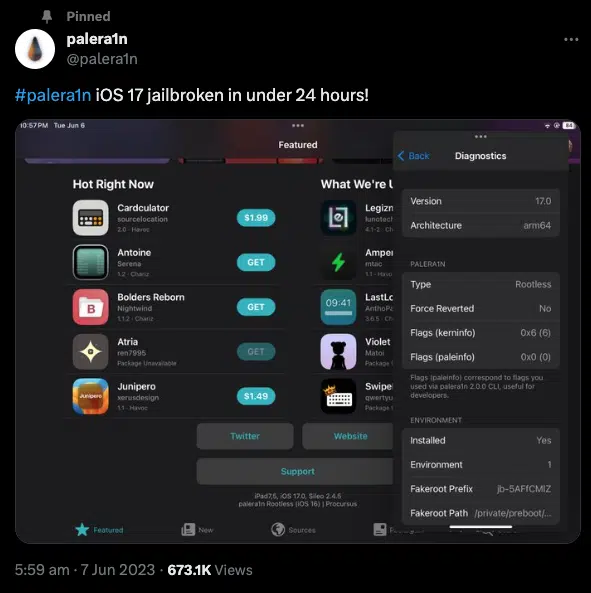 What is new in PaleRa1n v2.0.0 Beta 8?
This brand-new update was released on GitHub. The changelog includes:
Support for 17.0 – 17.1 (and potentially higher)
The support for traditional rootful jailbreaks is being discontinued by PaleRa1n.
So a few important changes are happening. At first, you can now jailbreak iOS 17 if you have a compatible device, and rootful jailbreaks that remount the System (ROOT FS) partition are no longer supported.
Also, according to the changelog, for now, users with iOS 17.0+ will need to use the Procursus (1900) bootstrap.
This is not exactly news, as PaleRa1n was a rootless jailbreak ever since the beginning. The rootful fork of it was more of an afterthought than anything.
The difference between rootless jailbreaks and rootful jailbreaks consists in the fact that rootless ones do not remount the System (ROOT FS) partition as Read/Write. Instead, they put all the tweaks and jailbreak files in the user partition (/var).
Aside from requiring tweaks to be updated to launch from the new paths, rootless jailbreaks do not have any other drawbacks compared to traditional ones.
What devices can be jailbroken with PaleRa1n?
Since PaleRa1n is based on the checkm8 exploit, you can use it to jailbreak any pre-A12 device. The following device chipsets are supported:
This includes both iPads and iPhones. iPod Touch is also supported. While iPadOS is named differently, it's essentially still iOS 17 with just a few customizations tailored to the iPad's big screen real estate. The kernel, as well as the security features a jailbreak would have to deal with are pretty much the same.
However, in the case of PaleRa1n for iOS 17, only iPadOS 17 exists as there's no checkm8-compatible iPhone that supports iOS 17. So if you have a checkm8-compatible iPad running iPadOS 17, you can now jailbreak it.
How to jailbreak iOS 17 with PaleRa1n
To jailbreak your iOS 17 / iPadOS 17 device with PaleRa1n, you need to follow the steps below in order to run PaleRa1n.
Please do keep in mind that at the moment, there is no official Windows version of PaleRa1n jailbreak. If you use Windows, you will need to either dual boot to Linux or use PaleN1x, a Linux distro that lets you install palera1n.
Open the terminal, write chmod +x, leave a space, and then drag and drop the PaleRa1n binary to give it the appropriate privileges.
Connect your iPhone in DFU mode to your PC using a USB cable.
Drag and drop the PaleRa1n binary in the terminal and press Enter.
Follow the instructions on the screen.
Your device will reboot into jailbroken mode.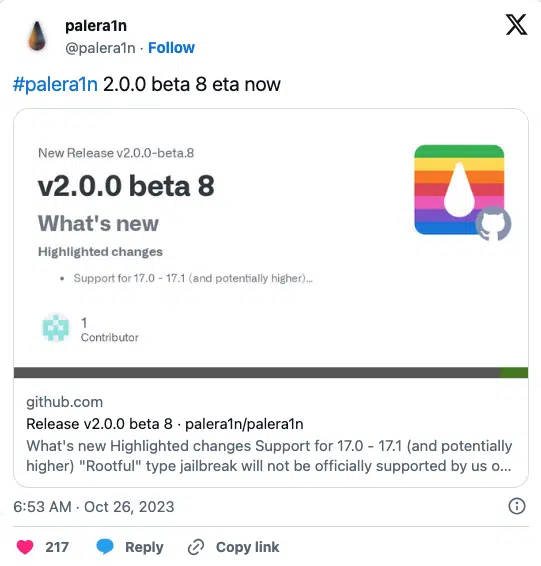 Frequently asked questions
Can I jailbreak newer iPhones like iPhone 14 with PaleRa1n?
The answer is no. PaleRa1n only supports older iOS devices vulnerable to the checkm8 exploit. Any device released with an A12 chip or newer is not vulnerable.
PaleRa1n cannot add support for these devices because the core exploit on which it is based doesn't support these devices.
What iOS versions can I jailbreak with PaleRa1n?
PaleRa1n jailbreak supports jailbreaking iOS 15.0 up to iOS 17.1 on compatible devices. If you need to jailbreak iOS 14, iOS 13, or iOS 12, use CheckRa1n instead.
Does PaleRa1n jailbreak support tweak injection?
Yes. PaleRa1n is a fully working iOS jailbreak that supports tweak injection. You can install tweaks from Sileo, Zebra, or other package managers and as long as they are rootless compatible, the tweaks will run.
Does PaleRa1n jailbreak come with Cydia?
No. Cydia is deprecated and its creator, @saurik has officially declared they are no longer working on it a long time ago.
By now, Cydia is very slow, completely broken on iOS 15+, and requires obsolete and old dependencies. Not to mention its codebase is a mess. Use Sileo or Zebra. These are modern, well-maintained, and updated regularly. Not to mention much faster than Cydia in any way.
Other iDevice Central guides