Since Watusi 2 is no longer in development, we highly recommend updating to Watusi 3 which is now available.
In this article, we will explore the Watusi 3 tweak as well as its features and how to install it on your jailbroken device. This is one of the must-have tweaks to install if you're actively using WhatsApp.
What is Watusi 3?
As it's custom for jailbreak tweaks, Watusi 3 adds a lot of features and enhancements to the WhatsApp messenger application that was not available in the stock/vanilla app. With this tweak, you can change almost any aspect of the WhatsApp application.
Watusi 3 supports WhatsApp 23.15.78 and newer from the App Store. If you're using an older version, you may need to update, or use Watusi 2 which is no longer maintained.
After Watusi is installed, you can find a new setting option on WhatsApp's Settings page. This allows you to configure the tweak's features.
Since there are so many features and options to change, Watusi has its own settings page with categories like Chats, Privacy, General, Chat List, Protection, Media, User Interface, etc.
By default, Watusi 3 is an ad-supported free tweak. If ads bother you, there is a full version available which aside from removing the ads will also add the following features:
Message Scheduler
Auto Replay
Hide Chats
Contact Spoofing
Custom Tones
Stickers Manager
Watusi 3 is great for privacy!
With Watusi 3 installed, you can disable default WhatsApp features such as Read Receipts, disable the typing indicator, freeze the "Last Seen" in place, manually mark view once opened, and block and hide calls.
Aside from these, you can also protect your messages with a passcode, view contact status, and disable automatic marking as viewed when you open a message. Some other interesting features are:
Splitting long videos.
Hide muted statuses.
Listen to audio messages even when you're not on the chat page.
Keep messages from deleted contacts.
Get confirmation before calling.
Record audio.
Open URLs / links directly inside WhatsApp.
With these features, you can enhance your privacy while using WhatsApp without affecting your overall experience.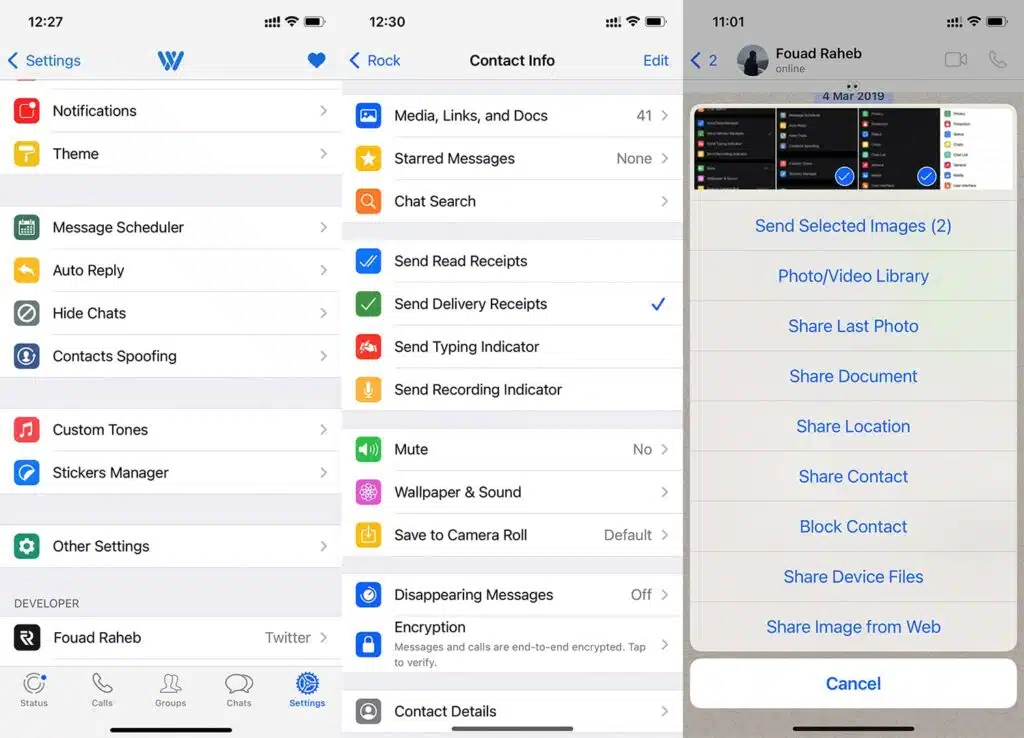 Other great Watusi 3 features
Aside from the great privacy-oriented features mentioned above, Watusi 3 also adds the following interesting and useful features to WhatsApp:
Increases the about you section length from 139 to 256 characters.
Pin more than 3 chats.
Save media marked as "View Once".
Send an unlimited number of photos to your chats.
Replace the notification text with custom messages.
Add themes for WhatsApp.
Disable Delivery Receipts.
Set Auto-Reply.
The tweak is completely free to get and you can continue to use it for free as long as you wish. In the free version, Watusi 3 has only one banner ad on top of the chats.
If the ads bother you, or you want to unlock the extra features such as the Message Scheduler, you can get the full version with a one-time purchase of $9.99.
IMPORTANT: All Watusi 2 users get a 25% off discount.
If you want to experience a free trial of the premium features, you can enable all of them for 2 days by tweeting about Watusi 3.
If you are moving from one device to another, Watusi 3 also allows you to import and export your configurations so you can easily configure Watusi 3 with your settings on another device.
What iOS versions are compatible with Watusi 3?
If you are jailbroken, you can install Watusi on iOS 9 all the way up to iOS 16. Watusi for WhatsApp can also be installed without a jailbreak as an IPA application which is basically the normal WhatsApp application bundled with the Watusi 3 tweak.
The non-jailbroken version can be installed by sideloading the IPA using your favorite iOS App sideloading tool, such as Sideloadly or AltStore.
The Watusi 3 for WhatsApp IPA version comes with a different Bundle Identifier than the default WhatsApp. This allows you to install both the stock WhatsApp and the modified one on the same device.
How To Download Watusi 3 for WhatsApp IPA
If you're not jailbroken and you want to install Watusi 3, you can do so by getting the IPA file and sideloading it with your favorite tool.
To install Watusi 3 for WhatsApp IPA on your iPhone or iPad, follow these steps:
Open the Sideloadly or AltStore on your computer.
Connect your iOS device to your computer using a USB cable and trust the computer.
With Sideloadly, drag and drop the IPA file on the IPA slot. On AltStore, move the IPA file somewhere on your device with iMazing or 3uTools.
If you use Sideloadly, enter your Apple ID and Password then press Sign.
If you use AltStore, open the app on your device, press the + button, locate the Watusi 3 IPA, and sign it. Make sure AltServer is running on your PC.
Do keep in mind that applications signed with a free Apple Developer certificate need to be re-signed every 7 days. Applications signed with a paid ($100/year) Apple Developer account last for one year.
How To Download Watusi 3 for WhatsApp Tweak
If you are jailbroken, it's much easier to install Watusi 3 and you don't have to re-sign it every 7 days. You can find the tweak on the private repo of Fouad.
Follow the steps below on a jailbroken device to install Watusi 3:
Open the Cydia, Sileo, or Zebra app from the Home Screen.
Go to the Sources tab and press the Add Repo button.
Add the following repo: https://apt.fouadraheb.com
Wait for your package manager to refresh the repos.
Search for Watusi 3.
Install the tweak and respring the device.
You will find Watusi 3 settings available inside WhatsApp's Settings.
Recommended iDevice Central articles