Having your iPhone or iPad stuck in a bootloop or encountering other iOS issues can be a frustrating experience. However, there are effective tools available that can help you resolve these problems quickly and efficiently.
One such tool is ReiBoot, a popular software solution designed specifically for fixing iOS bootloop and a wide range of other issues. In this comprehensive guide, we will explore the functionality and features of ReiBoot, and provide step-by-step instructions and useful tips to help you navigate through the troubleshooting process successfully.
By the end of this article, you will be equipped with the knowledge and confidence to use ReiBoot to get your iOS device up and running smoothly again.
What is ReiBoot and how does it work?
ReiBoot is a software program developed by Tenorshare that specializes in fixing various iOS system problems.
It is designed to help users tackle issues like bootloop, frozen screens, black screens, and more, without the need for complex technical knowledge. ReiBoot can fix 150+ iOS errors and issues. The program supports both Windows and macOS and a free trial is available.
One of the primary functions of ReiBoot is to help users enter or exit recovery mode with a single click. This can be particularly useful when your iOS device is stuck in recovery mode or not responding.
ReiBoot also enables you to fix iOS bootloop problems that can occur due to software glitches or failed updates. It can help your device get out of the bootloop and restore normal functionality.
In addition to bootloops, ReiBoot can fix a wide range of other iOS issues such as frozen screens, black screens, unresponsive touch, and more.
It provides an all-in-one solution for troubleshooting and resolving these problems.
How to use ReiBoot to fix an iOS 16 or iOS 17 Bootloop
Before using ReiBoot, it is essential to ensure that your computer meets the system requirements. ReiBoot is compatible with both Windows and macOS operating systems.
Make sure you have a stable internet connection and sufficient storage space on your computer. The program will download an iOS firmware (IPSW) which needs a few GB of space and a stable internet connection to verify it with Apple (iOS Signing Server).
IMPORTANT:
ReiBoot can reliably upgrade your device to the latest iOS 17 Beta, or downgrade back to iOS 16.5.1 if you decide you don't like iOS 17 Beta that much.
The iOS Downgrade / Upgrade screen is very intuitive and with just a few clicks you can be on iOS 17 Beta in no time. The same applies if you wanna go back to the stable iOS 16.5.1. So aside from fixing various iOS issues, ReiBoot can be used to downgrade and upgrade to iOS Betas.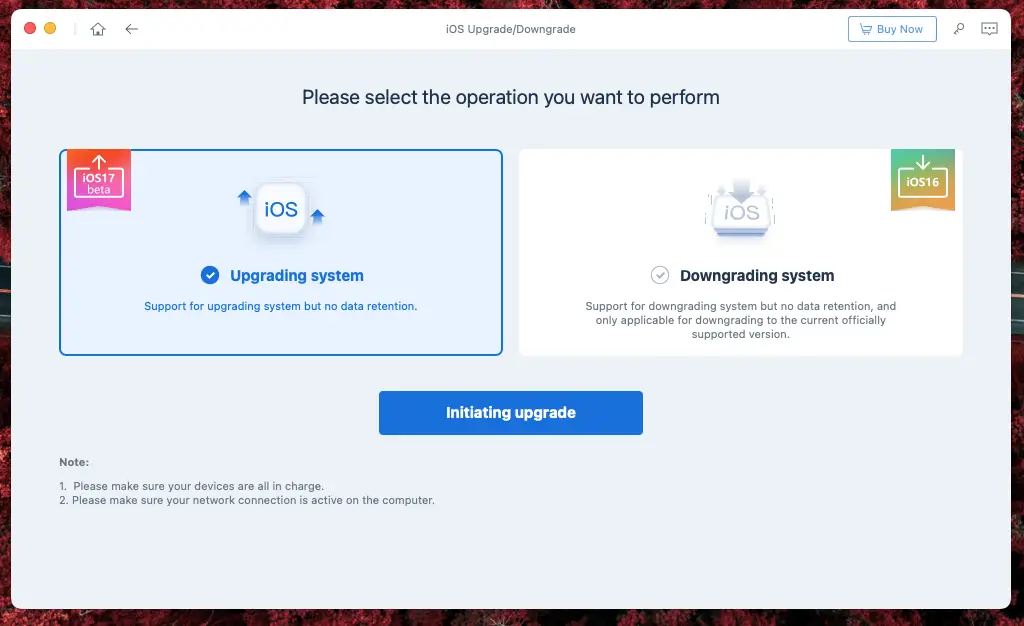 To start using ReiBoot, follow these steps:
Visit the official Tenorshare website.
Navigate to the ReiBoot product page.
Download the appropriate version of ReiBoot for your operating system.
Run the installer and follow the on-screen instructions to complete the installation process.
Fixing iOS Bootloop and Issues with ReiBoot
If your device is stuck in a bootloop or refuses to work as expected, follow the steps below in order to reinstall iOS and breathe some new life into the device. This works best if you have an iCloud (or local) backup for your data.
Open ReiBoot and connect your device in DFU or Recovery Mode.
Press the big green Start button.
Press the blue Fix Now button.
Select Standard Repair. In this mode, the program attempts to update-restore the iOS which can preserve the data. If this fails to fix the device, re-do it with Deep Repair, but do know this will erase all data on the device.
If your device is in DFU Mode it will be detected, otherwise, you will see a screen with instructions on how to put the device in DFU mode.
On the next screen, select the latest iOS version available and wait for it to be downloaded.
Once downloaded, the IPSW file will be flashed to the device by ReiBoot. Do not disconnect the device.
Once the device reboots to the Setup / Hello screen, it's safe to disconnect it from the computer.
Proceed to set your language, Apple ID, etc. You're done.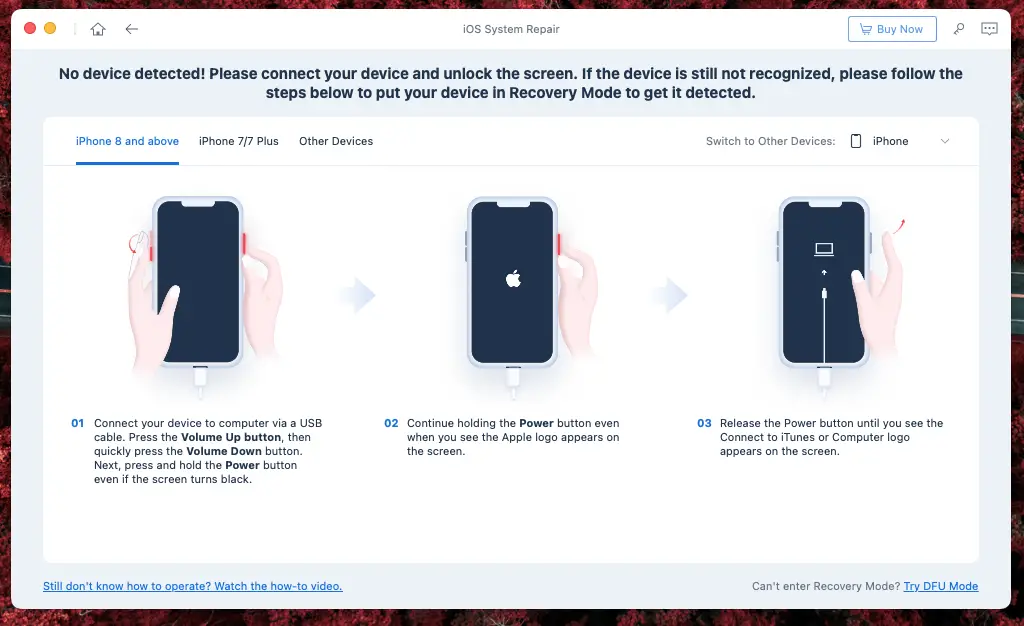 Additional Tips and Considerations when using ReiBoot
Backup Your Data to iCloud or locally
Before using ReiBoot to fix any iOS issues, it is crucial to back up your data. Although ReiBoot is generally safe and reliable, it is always better to be cautious and have a backup of your important files and data.
Update ReiBoot to the Latest Version
To ensure the best performance and compatibility, it is advisable to keep ReiBoot updated to the latest version. Check for updates regularly on the Tenorshare website or within the software itself.
If you encounter any difficulties or have questions regarding ReiBoot, you can reach out to Tenorshare support for assistance. They can provide further guidance and help resolve any issues you may encounter.
Final thoughts
ReiBoot is an invaluable tool for anyone facing iOS bootloop or related issues. Its easy-to-use interface and powerful features make it a reliable solution for fixing various iOS system problems. By following the step-by-step instructions provided in this guide, you can confidently use ReiBoot to get your iOS device out of the bootloop and back to normal operation.
Remember to exercise caution, back up your data, and keep the software up to date for optimal results. With ReiBoot by your side, you can overcome iOS issues and enjoy a smooth and trouble-free experience on your iPhone or iPad.
Other guides from iDevice Central