Today we got a new update to the ElleKit tweak injection platform that powers both Dopamine Jailbreak and PaleRa1n. This mammoth of a component is what allows tweaks and themes to work on these jailbreaks. It's a direct successor for Cydia Substrate and Substitute.
If you are using either Dopamine or PaleRa1n on iOS 15.0 – 15.4.1, grab this new ElleKit 1.1 update now.
What is new in ElleKit v1.1?
According to évelyne, the developer of ElleKit, the changes in v1.0 are as follows:
Fixes AppSync Unified on Dopamine
Fixes cbz rebinds
Fixes objc_msgSend hooks
Adds mobiletimerd to the palera1n filter
Adds a new hook technique
and more…
According to évelyne, this update has been in development for over 6 months.
How to download ElleKit v1.1?
ElleKit is an important component for both the PaleRa1n and Dopamine jailbreak and you should have the update available in Sileo / Zebra as ElleKit is installed by default.
To update ElleKit, open either Sileo or Zebra Package Manager, navigate to the Packages tab, and update ElleKit.
Should you update ElleKit on RootHide Jailbreak?
No! According to the RootHide developer, they are currently working to get RootHide Jailbreak working with the latest v1.1 of ElleKit.
While RootHide is a fork of Dopamine Jailbreak, it appears it's not 100% compatible with the latest ElleKit release for now. According to the developer, updating to v1.1 will break your jailbreak currently.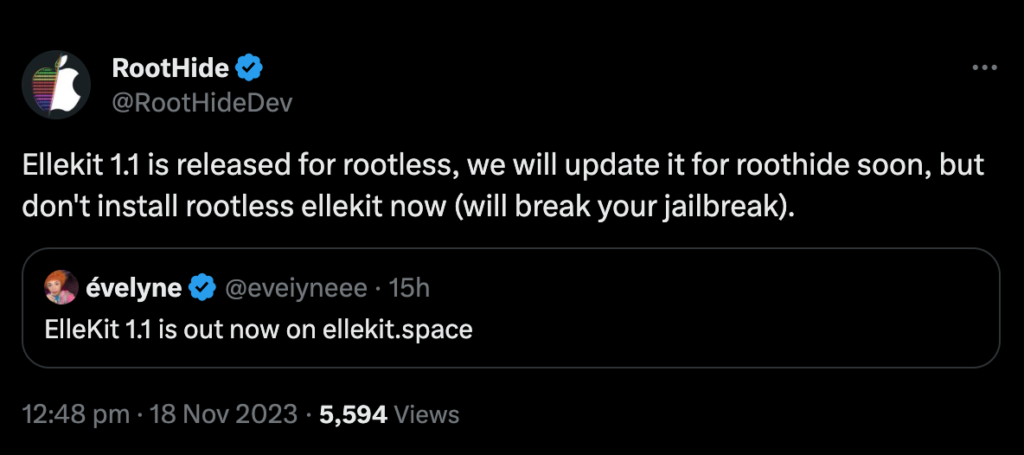 More iDevice Central Guides