Users who purchase second-hand iPhones and refurbished iPhones will encounter an activation lock if the previous owner sells the iPhone without deleting the iCloud account.
This is a security tool that prevents someone else who has stolen your iPhone from reactivating it after wiping it. You can only use the iPhone after you prove that you own it by entering the correct Apple ID and password associated with the device.
Can the activation lock be bypassed? Yes, you can unlock the iCloud activation lock safely and reliably through certain methods.
In this article, we will introduce you to 4 methods to remove the iCloud activation lock, including using an iCloud activation lock removal tool. Let's move on.
This article discusses a sensitive topic related to unlocking an iOS device. iCloud unlock solutions and services should ONLY be used on devices that you legally own. Attempting to bypass the lock on a device that doesn't belong to you may be illegal. Please do not attempt on somebody else's device without their consent. Check your local laws and regulations.
Method 1: Remove iCloud Activation Lock with Previous Owner's Help
You can check Medical ID in Emergency near the lower left corner of the screen to see if the previous owner had a medical setup, which may contain useful information about the previous owner's contact details.
If the former owner is unable to arrive on-site to help you bypass the iCloud activation lock and is unwilling to share his Apple ID account and password, you can ask the former owner to remotely delete your iPhone from his iCloud account.
Once they do this, the Activation Lock will be removed and you can easily set up your iPhone with your new Apple ID. Here are the specific steps the previous owner needs to do to remotely erase your iPhone:
Step 1: Visit iCloud.com and enter your Apple ID and password.
Step 2: Click Find iPhone. Now, click on "All Devices". The list of all devices connected to the Apple ID will be shown on the page.
Step 3: Select the device you want to delete and click the Erase iPhone button. The device will be remotely wiped and can then be set up with a new Apple ID.
Method 2: Remove iCloud Activation Lock with Jailbreak
In many cases, you often don't have any information about the previous owner or any contact details.
At this time, we recommend that you use the reliable and efficient iCloud activation lock removal tool to remove the activation lock through jailbreaking.
Joyoshare Activation Unlocker is a safe and reliable tool that helps you remove iCloud activation lock through jailbreak, it has no prerequisites and removes activation lock without an Apple ID and password.
Not just iPhone, Joyoshare Activation Unlocker is also compatible with iPad and iPod Touch, supporting iOS 12 and above, such as iOS 16.5.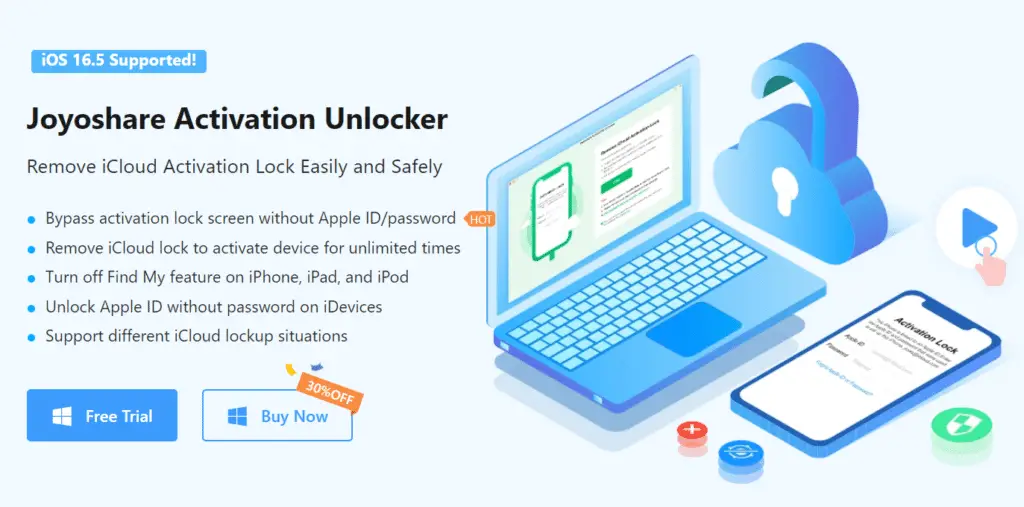 How to use Joyoshare Activation Unlocker to remove iCloud activation Unlock on iPhone/iPad/iPod touch? Check the following steps.
Step 1: Download and install Joyoshare Activation Unlocker on your computer, click the View supported devices and iOS systems link in the main interface to confirm whether your device is supported, everything is fine, click the Agree button, and then click the Start button.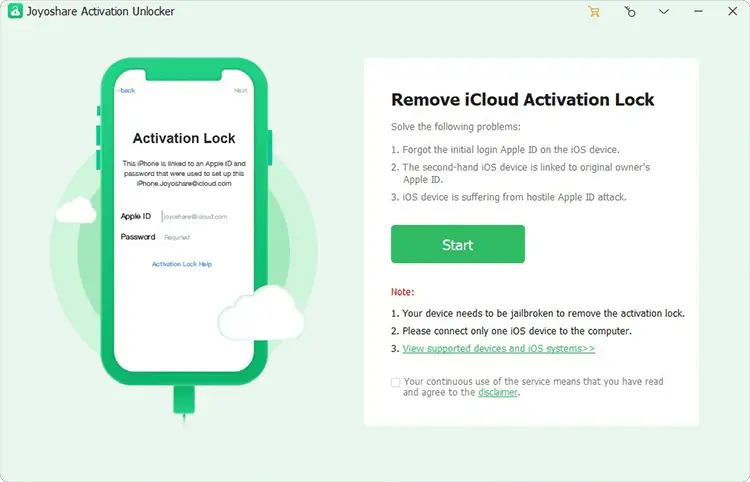 Step 2: Use a USB cable to connect the iPhone from which the activation lock needs to be removed to your PC, and download and install the jailbreak tool for your device.
Follow the on-screen prompts to start jailbreaking your iPhone.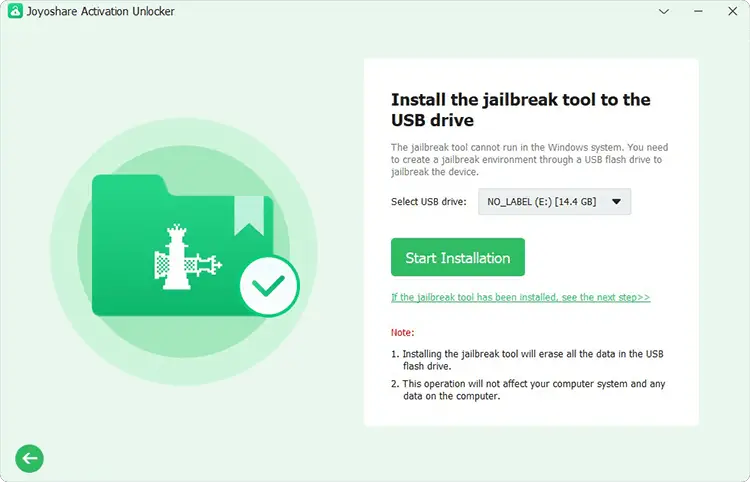 Step 3: After the jailbreak is completed, click the Start to Remove button and Joyoshare Activation Unlocker will start bypassing the iCloud activation lock.
After a few minutes, the software interface will display Removed Successfully, which also means that the iCloud activation lock has been successfully removed.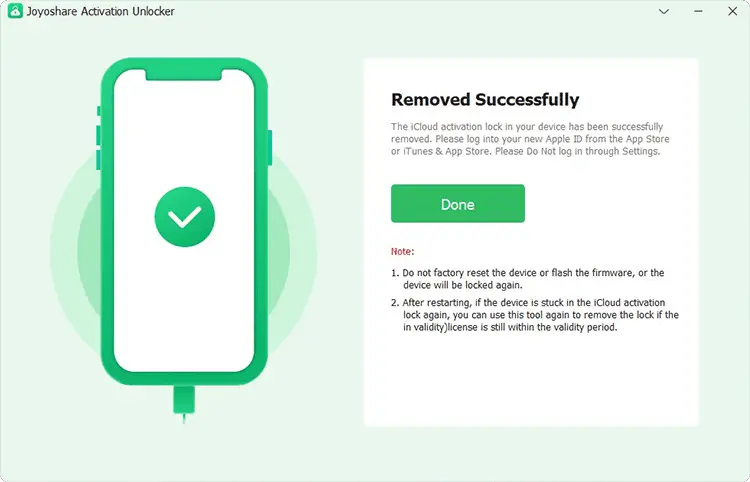 Method 3: Remove iCloud Activation Lock without Password Using DNS
If your iPhone is running an older version of the operating system, you can use the DNS method to unlock your iPhone.
This method mainly exploits manufacturer bugs and has a low success rate, but you can still give it a try. How to remove the iCloud activation lock using DNS? Check below.
Step 1: Once restored, you can set up your device like new. When configuring WiFi, connect it to your WiFi network.
Step 2: Enter that WiFi network. You will see the option to configure DNS. click it.
Step 3: Now, choose to configure manually.
Step 4: Input the following DNS values according to your area.
North America – 104.154.51.7
South America – 35.199.88.219
Europe – 104.155.28.90
Asia – 104.155.220.58
Australia and Oceania – 35.189.47.23
Save the settings and your device should bypass the lock afterwards. If this doesn't work, you can try any other method.
Method 4: Remove iCloud Activation Lock with Apple Support
The last way to remove iCloud activation lock without password is to contact Apple support to unlock your iPhone, but for this, you should be the real owner of the device. You can go to the nearest support center or call support for more details.
Keep in mind that this is an expensive option as they will charge you hefty unlocking fees.
Apple does provide an iCloud unlock service in the Apple Store. Make sure you bring your proof of purchase with you so that you can prove the device is actually yours.
Photo credit: Harpal Singh on Unsplash
Recommended iDevice Central guides